April 27, 2023
---
April 2023 edition of CloudWave Connections
We've created this newsletter for our customers to communicate what's new, let you know about upcoming events, share customer stories, and introduce you to members of our team.
We hope you find this newsletter informative and something that you look forward to receiving. If you have suggestions for topics, or have questions about something that's been featured here, please let us know.
---
A Note from Tim Quigley
Reflections on HIMSS23
Thank you for taking the time to read our newsletter. Here at CloudWave, we are catching our breath after a very busy HIMSS23, which was on the heels of the ViVE conference. We would love your feedback on those conferences if you attended them. They are expensive propositions, and we would like to be sure that we are spending our dollars in a way that benefits you.
It seems odd, but the overwhelming feeling after HIMSS23 was relief. Relief because, for the first time in three years, HIMSS23 returned to its pre-COVID experience. There was no pre-conference testing, vaccine card checking, or elbow bumping while mask-wearing.
It was a great relief to see people's faces (all of their faces) and to focus on business. The conference buzz was heavily focused on artificial intelligence, with a flood of ChatGPT references. At this point, it seemed like there wasn't much behind the references, but it will be interesting to track over the next few years.
From a personal perspective, the highlight of HIMSS23 for me was our Customer Appreciation event at Buddy Guy's Legends blues bar. It was great to see many of you there, but the true highlight was Mark Middleton joining the band, The Cash Box Kings, on stage. I had always heard that Mark was a stellar musician, but to actually hear it in person was amazing.
If I didn't see you at HIMSS, hopefully, we can catch up at MUSE in Denver in June.
Tim Quigley is Chief Client Officer for CloudWave.
---
Stay up to date with our latest news, press releases, and events on LinkedIn.

---
CloudWave named in Becker's Healthcare Cybersecurity Companies to Know in 2023
Hospitals are more concerned than ever about protecting themselves against cyberattacks.
Cybersecurity companies are helping healthcare organizations remain focused on providing the best possible care.
We're proud that Becker's Hospital Review named CloudWave one of its Healthcare Companies to Know in 2023!
---

HIMSS23 in Chicago
Despite the dusting of snow attendees saw as they arrived in Chicago, HIMSS23 warmed up quickly, with plenty of opportunities to learn, socialize and catch up with colleagues.
---
CloudWave presents at HIMSS23
Edge, Cybersecurity, and ArchCare
Over the three-day conference, CloudWave presented an array of topics, including Managing the Edge – New Ways of Looking at Your Data Center Infrastructure, How ArchCare Health Services Tested Their Cybersecurity Response Readiness, Take Healthcare IT Security to the Next Level – Go Beyond the Status Quo, and a very popular What Scares Attackers the Most and How They Are Using ChatGPT.
---
CloudWave at AWS Booth
Keeping Data Safe from Cyberattacks
On Tuesday, CloudWave's Chief Security and Engineering Officer John Gomez shared the importance of security safeguards needed to consider to keep your data safe in his presentation in the AWS booth.
---
NE HIMSS Chapter Social
Co-sponsored by Dell, Tausight, and CloudWave
CloudWave wrapped up a busy first day by hosting the HIMSS New England Chapter 2023 Social in the booth. Over 200 guests mixed and mingled with attendees from around the country before they left for the day. CloudWave was honored to participate with Dell and Tausight.
---

CloudWave's 2023 Customer Appreciation Event
Buddy Guy's Legends
CloudWave's Annual Customer Appreciation Event was held at Buddy Guy's Legends, a well-known blues club in the heart of Chicago. The Cash Box Kingsperformed and guests were treated to dinner, and a surprise performance by none other than Mark Middleton, a blues musician in his own right and CloudWave's Chief Quality Control Officer and Vice-President.
Want to hear more? Click here to listen.
---
CloudWave in the Media
Healthcare IT Today asked John Gomez, Chief Security, and Engineering Officer at CloudWave, to weigh in on how to protect your healthcare organization amidst a rise in cybersecurity threats.
Read how John shared what your organization could be overlooking, how technology has increased, and the threats to healthcare in the articles below.
Cybersecurity: Hoping for the Best, but Preparing for the Worst
The Ever-Evolving World of Cybersecurity Threats
---
MUSE New England Community Peer Group
CloudWave sponsored the MUSE New England Area Community Peer Group held in Pittsfield at the Berkshire Hill Country Club on March 29. Community Peer Groups meet and connect with each other regularly to work toward the same goals, solve issues and create best practices locally.
---

Join the CloudWave Cybersecurity Insider Program
Sign up today for the Cybersecurity Insider Program to join a community where you can regularly access free healthcare cybersecurity education and get alerted to threat intelligence gathered by our Cybersecurity Operations Center team. You will also have the opportunity to network with your peers to hear about their cybersecurity successes.
A few highlights of the program include:
Monthly free cybersecurity education – taking place on the last Thursday of every month — NEXT WEBINAR IS THURSDAY, 4/27
Ongoing alerts to high-risk cybersecurity threats with recommended actions
Access to a private YouTube channel (you'll get immediate access upon program registration)
Access to a private LinkedIn Group
Exclusive access to special events
Annual group Tabletop Simulation – May 11th
---

NRHA Conference
May 16-18  
CloudWave will attend the Annual Rural Health Conference in San Diego next month.
---
MUSE INSPIRE is coming to Denver in June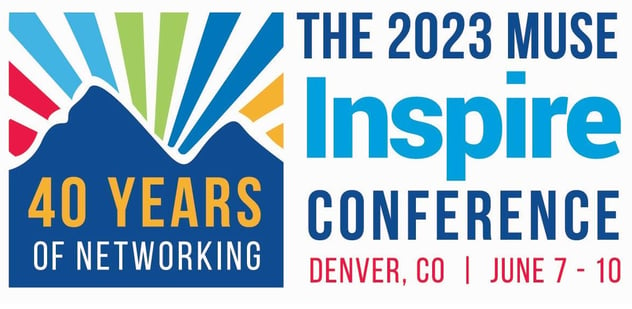 The annual MUSE Inspire conference will be in Denver, CO, from June 7 through 10.
CloudWave will be in Booth 512. Stay tuned for more details.
---

NE HIMSS Spring Conference
Four Points Sheraton, Canton, MA 
Stop by the CloudWave table and say hello on June 8!
---
April Customer Success News
CloudWave would like to congratulate the following customers for their successful Disaster Recovery tests in the month of March!
Go Lives:
 Centro Medico de Puerto Rico
DR tests:
Hospital De La Concepcion
Marion Health
Liga Puertorriquena Contra El Cancer
Hammond Henry Hospital
British Virgin Islands Health Services
Carteret General Hospital
---
Meet Jen Gesner




Corporate Vice President



Many CloudWave employees have spent their careers in healthcare IT.
Jennifer Gesner has been part of the CloudWave "family" for over 25 years.
Armed with a bachelor's in business administration with a concentration in Accounting, Jen worked the numbers at JJWild. Continuing through the Perot and Dell acquisitions, she joined the founding members of the CloudWave team as the CFO in 2012.
"I wanted to work with the same team I had so much success with for the past 14 years," she explained.
Now a corporate vice president, Jen lends her expertise to finance, legal, and administration and does "a little bit of everything."
"I guess I'm a Jill of all trades" she laughed.
A 9-year breast cancer survivor, Jen still runs 5 days a week and claims it helps her to "focus and keep my stress levels down."
Each year, her neighborhood has a large holiday light display to raise money for the Ellie Fund, a local breast cancer charity that provides support for Massachusetts breast cancer patients. Since 2014 Jen's street has raised more than $50,000.
When asked what she likes most about working in health care?
"Ultimately, it's the ability to help others, the need for good health care is something we all have in common."