May 24, 2023
---
May 2023 edition of CloudWave Connections
We've created this newsletter for our customers to communicate what's new, let you know about upcoming events, share customer stories, and introduce you to members of our team.
We hope you find this newsletter informative and something that you look forward to receiving. If you have suggestions for topics, or have questions about something that's been featured here, please let us know.
---
A Note from Erik Littlejohn
Upcoming MUSE Inspire
Tim mentioned in last month's newsletter that we were catching our breath from HIMSS23. The wonderful turn to Spring weather has greatly assisted our collective recovery. We've turned our focus to MUSE Inspire and look forward to another opportunity to meet with many customers in person. Perhaps this will be the last mention of how much we value those personal interactions as we've officially moved beyond the COVID-19 emergency.
Here are some highlights of our MUSE Inspire presentations that we hope you can join:
Product Showcase session: Cybersecurity as-a-Service – Advance Your Cybersecurity Program and Remove the Burden from Your IT Team Presenter: John Gomez, Thursday, June 8 at 1:30 pm
Educational Track: Support & Technology: Best Practices for Securing Healthcare IT Across Public, Private, and Cloud Edge Environments Presenters: Tim Quigley, John Gomez, Matt Donahue, and Eric Gasser from Wooster Community Hospital Health System, Thursday, June 8 at 3:10 pm
Educational Track: Support & Technology: Take Advantage of Emerging Cybersecurity Trends in Healthcare to Advance Your Security StrategyPresenter: John Gomez, Saturday, June 10 at 8:30 am
We remain really excited about the Sensato acquisition, as evidenced by the topics above. Having cybersecurity services and capabilities is tremendously complementary to our major service lines: hosting, disaster recovery, backup, and implementation services for on-premises customers. We believe we can provide the best value for all customers through a combination of managed IT services and cybersecurity. We'd welcome any opportunity to have a conversation about how we can help your cybersecurity journey and how other managed services can fit into the overall picture. In particular, our Cybersecurity Capability Maturity Model (C2M2) is a great way to get started and provides an excellent means of tracking progress and reporting on your organization's progress to meet its cybersecurity objectives.
Look forward to seeing anyone able to make it to MUSE23 in a few weeks.
Erik Littlejohn is President and Chief Executive Officer for CloudWave.
---
Stay up to date with our latest news, press releases, and events on LinkedIn.

---
CYBERSECURITY WEBINAR:
Securing AI Systems in Healthcare – Best Practices and Policy Guidelines
Thursday, May 25th, 2pm – 3pm ET
There is still time to register. Join the Cybersecurity Insiders Program today and attend the AI Security for Healthcare session on Thursday, May 25.
Understand AI threats and how to develop and implement an AI-specific security policy. After the webinar, we will also release our AI Security Policy and Procedures Guidelines for Healthcare.
Join the Cybersecurity Insiders Program and register today
---
CloudWave selected Best Places to Work
Modern Healthcare 2023
CloudWave has again been selected as one of Modern Healthcare's Best Places to Work! The program honors employers that empower workers to provide patients and customers with the best possible care, products, and services.
---
CloudWave Blog
ChatGPT and Inadvertent Disclosure of Patient and Technical Information
Kelli Watson, Director of Solutions Delivery & Security Operations, CloudWave
Our Cybersecurity and Tactical Operations Center (CTOC) has recently become aware of several instances where hospital staff usage of ChatGPT has led to inadvertent disclosure of personal health information and administrator passwords.
In one case, a physician used ChatGPT to create an email explaining a surgical procedure to a patient's family. The physician asked ChatGPT to provide treatment options, risks, and a recommendation and provided the generative AI tool with the patient's name, address, date of birth, medical condition, and other pertinent details. It is believed that the physician has done this multiple times, citing that it saved time and allowed them to take advantage of a virtual assistant.
---

Join the CloudWave Cybersecurity Insider Program
Sign up today for the Cybersecurity Insider Program to join a community where you can regularly access free healthcare cybersecurity education and get alerted to threat intelligence gathered by our Cybersecurity Operations Center team. You will also have the opportunity to network with your peers to hear about their cybersecurity successes.
A few highlights of the program include:
Monthly free cybersecurity education – taking place on the last Thursday of every month—NEXT WEBINAR IS THURSDAY, 5/25 at 2PM ET (see above)
Ongoing alerts to high-risk cybersecurity threats with recommended actions
Access to a private YouTube channel (you'll get immediate access upon program registration)
Access to a private LinkedIn Group
Exclusive access to special events
Annual group Tabletop Simulation
---

NRHA Conference
CloudWave attended the National Rural Health Association's (NRHA) Annual Conference in San Diego last week. The event brought together rural health leaders from across the country to help raise the standard for rural health with over 80 innovative, practical, and cost-saving sessions and more.
Learn how we help Critical Access and Rural Hospitals
---
2023 MUSE INSPIRE in Denver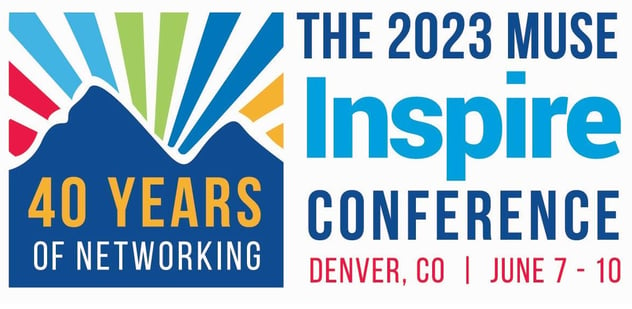 CloudWave will be in Booth 512 at the annual MUSE Inspire conference in Denver, CO, from June 7 through 10. (See Erik's article above for presentation times.)
---

NE HIMSS Spring Conference
Four Points Sheraton, Canton, MA 
Four Points Sheraton, Norwood, MA
Stop by the CloudWave table on June 8 and say hello!
CloudWave is a proud sponsor of the NE HIMSS Chapter.
---
May Customer Success News
CloudWave would like to congratulate the following customers for their successful Disaster Recovery tests in the month of April!
DR tests:
Margaret Mary Community Hospital
Nathan Littauer Hospital & Nursing Home
Onslow Memorial Hospital
Marshall Browning Hospital
Wooster Community Hospital
---
Meet Mike Donahue




Vice President, Client Services



Many CloudWave employees have spent their careers in healthcare IT.
Mike Donahue has spent more than half of his life in healthcare IT.
Now Vice President of Client Services at CloudWave, Mike is responsible for Sales Engineering and Technical Services.
"I ensure Pre-sales, Operations, and Delivery are in lockstep throughout the entire lifecycle."
Mike started his journey in Healthcare IT at the young age of 15 in a hospital where he credits his CIO Mom for giving him a head start.
"I was brought in to rollout new pcs/printers and terminals, he explained. "And yes, terminals for the MAGIC system," he laughed.
After time in the ER Patient Registration department and outpatient services, Mike returned to IT, working in a System Administrator role at two different hospitals in the Boston area.
Like many others at CloudWave, Mike joined what was then the Dell MEDITECH Solutions Group, where he worked on the JSITE and MSITE teams, specifically on the migrations and DR testing.
Mike joined CloudWave in 2011 as a Technical Consultant, and by 2015 he ran the consulting practice.
"In 2018, I was in charge of all on-prem delivery, and in 2020 I took over sales engineering," he shared.
Four years ago, Mike moved from the Boston area to Florida to start a new chapter. Just south of Cocoa Beach, they selected the area to be close to Disney World and the beach and have been enjoying exploring Florida.
Mike claims that although his 13-year-old-son and 10-year-old twins have been "die-hard Disney fans" for some time, Universal Studios may become the "new favorite hot spot" after a recent visit.
In addition to missing family and friends, he does miss the unique local flavors from independent restaurants like the "standalone sub shops" found in almost every New England city and town.
He also advised, "Never get lobster or scallops in Florida."
When Mike isn't at CloudWave, he can be found enjoying craft beer and golf.
What does Mike like best about working in healthcare?
"The diverse ever-changing requirements in IT," he responded. "No two days are ever the same."